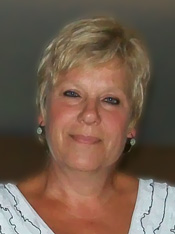 Heidrun Morgan, a native of Germany, is a self-taught mosaic artist whose many works appear in the homes of friends and family as well as clients here in the States and in Germany. A world traveler, Heidrun's admiration for art has led her to visit The Louvre in Paris, the Pinakothek in Munich, The Guggenheim in Berlin, the Belvedere in Vienna, the Hermitage in St. Petersburg, and the MoMa and Metropolitan Museum in New York City. What's more, Heidrun's love of art has resulted in her taking numerous art classes over the past 35 years as well as her experimentation with different mediums and styles. Renowned artists such as Klimt, Van Gogh, Toulouse Lautrec, and Hundertwasser are some of her favorites.
Among her latest explorations and avenues of artistic expression is creating mosaics. "I fell in love with mosaics while visiting Vienna a few years back," says Heidrun. Mosaic is the art of creating images by assembling small pieces of glass, stone, tile (call tessarae) or other materials.
"During my travels to Europe, I always make sure to purchase novelty tiles and other items to use in my mosaics," says Heidrun. She also recycles items to give them new purpose and also, to add a personal one-of-a-kind touch to her artistic creations.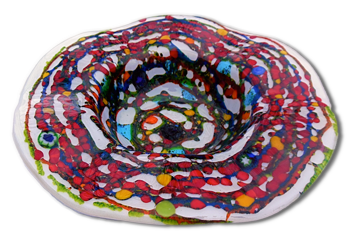 Heidrun also constructs stained glass window panels and other decorative pieces and sun catchers. She uses the copper foil method, which was made popular by Louis Comfort Tiffany in the early 1900s.
In addition, Heidrun has added a kiln to her art studio where she now creates her own fused glass pieces. Glass fusing is the process of heating glass to extreme temperatures until it fuses and melts together.
In 2011 Heidrun created a mosaic on a reclaimed window for the Open Doors and Windows Auction in Milford. Proceeds of the event went to the Domestic Violence Services of Greater New Haven.
In October 2011 Heidrun's art work was part of the Crop Circle exhibit at the Blue Horse Arts Studio in Watertown. This research project engaged artists, farmers, and the local community in an effort to raise awareness on local food systems and organic farming practices. Donations benefited the local food pantry.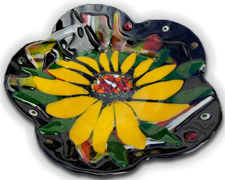 In 2012 one of Heidrun's mosaics was on view at the "Plight of the Pollinators" International Art Exhibit in Watertown. Blue Horse Arts and JFoster Music Studios were hosting this event to raise awareness on the importance of the role of pollinators on our food supply. Fifty percent of the proceeds from entry fees and sales were donated to the Flanders Nature Center's environmental education programs (www.flandersnaturecenter.org).
You can find Heidrun's Glass Creations at The Glass Source in Seymour, Art & Frame of Newtown, Queen Street Gifts in Newtown and also by appointment in her home studio in Newtown.
In 2012 Heidrun started teaching stained glass workshops at the Blue Horse Arts Studio in Watertown.
Heidrun is offering stained glass and glass fusing workshops in her Newtown studio by appointment only.
"Working with glass is the perfect addiction of sorts because each piece is unique and giving life to my ideas completes me."